We have completed CE approval for more than 400 different products , cooperating with any Notified Body.
We can offer the following services :
Preparation of Use & Maintenance Manuals

.

Preparation of complete Technical Files of any machine (including Stress calculation Manuals and Risk Assesments Reports)

.

Detailed Spare Parts Manuals with exploded views of the machine.
If the type of machine to be certified, like those listed in the Annex IV of the Machinery Directive or if the PED Directive is applicable, requires a CE type examination, we can cooperate with the Notified Body guaranteeing a fast and trouble-free approval process.
All documents are supplied to the customer in either printed form or CD format PDF and can be prepared in all the most common European languages.
Rollbo is your techncial support to CE approve a new machine or to re-approve existing models under the new regulations.
In particular, considering the new norm EN1493:2010, which requires the CE type re-examination to be carried out on the machines conceived before its introduction, requiring in many cases relevant project interventions, Rollbo can provide precious technical support during the re-certification process
IMPORTANT UPDATE:
The Vehicle Lifts' Harmonized norm EN1493 has been updated.
Contact us if you need information and advices on how to easily and quickly update the CE documentation of your products.
Thanks to our office in Dalian we can guarantee full support during the CE approval process to all the Chinese Companies wishing to start distributing their products in the European market.
For our customers we also operate as a Technical Representative on the European Market in accordance with the provisions of the Machinery Directive 2006/42/EC.
Our engineers are regularly enrolled in specific training courses, this continuous update to new norms permits us to give our customers the life time capability of updating the CE documentation of their products.
An area of specific CE expertise we have recently acquired is that of inspecting and preparing documents for certain equipment included in the Pressure Equipment Directive PED EN27/97 (tanks, heatexchangers, autoclaves)
As Expert in the CE Approval we cooperate with the important "il punto CE" Italian magazine.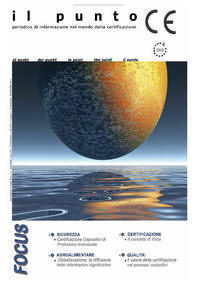 Read here the last issue.
We are official consultants of the Italian Institute for the International Trading (ICE) of Rome and for the Italian Associacion of the Manufacturers of Plastic Injection Moulding Machines e (ASSOCOMAPLAST), with special reference to the CE approval.
In the last months we were invited by ICE and ASSOCOMAPLAST to present a conference in China, Hong Kong and in Tunisia, showing the requirements of the CE norms to a group of local manufacturers.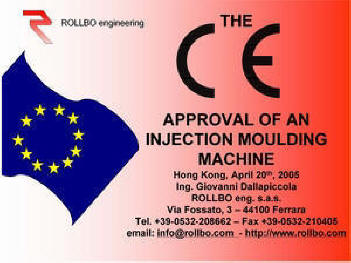 We were also honoured by having been selected by the trading office of the American Consulate in Italy for our expertise in the CE approval process.

Amongst the projects that we have recently completed, we can list:
A family of circular saws with sliding working table (Anex IV, ref. EN 1870-1).
A family of circular saws with fixed working table (Anex IV, ref. EN 1870-1).
Many different wood saws (Annex IV, ref. EN 1870-1).
4 different families of Autoclaves to be used in the wine production facilities (Group IV PED directive 97/23/EC).
A family of machines to be used in agricolture to take the trees out of the ground and move them.
Many different types of car-body pulling benches and garage car lifting equipments (Annex IV, ref. EN 1493).
Many different models of bio-shredders.
All the fittings currently manufactured by a very well known European producers (Article 3 paragraph 3 PED directive).