The last years were years of great regulatory change in the world of machines and particularly for what concerns vehicle lifts.
At the end of 2009 the new 2006/42/EC Machinery Directive was introduced.
Between April 2009 and August 2010 two different
updates of the harmonized norm concerning the vehicle lifts were published.
This created a lot of confusion because many manufacturers were lead to believe that having CE approved their products in 2009 or 2010 following the requirements of the EN1493:2009 was enough to guarantee the compliancy to the applicable safety regulation for a decent period of time.
This is not actually the case because the EN1493:2009 norm was retired back last year, leaving only the EN1493:2010 norm as the reference techcnical guide for all the vehicle lifts manufactured after the first months of 2011.
The changes introduced by the new Machinery Directive and by the new harmonized norm EN1493:2010 are so significative that will end up revolutionising the design of a vehicle lift, with great influence on the adoptable technical solutions.
The introduction of the EN1493:2010 requires to perform again the CE Type test according to the new norm even on machines already present in the market when the new norm was published.
The more stringent safety requirements introduced by the EN1493:2010 in many cases force the engineers to modify an existing design before it can pass the new test.
Rollbo can manage on your behalf the CE approval process, giving technical support to CE approve new machines or to update the CE certificate of existing models under the new regulations.
We can compile complete Technical files, prepare Use and Maintenance Manuals, Structural calculations, update an existing design, ensuring our customers a quick and smooth CE approval update process. The considerable experience gained over the years in both the design and certification in the field of Vehicle Lifts (both for workshops and for for Mechanical Repair), allows us to offer a professional, fast and economic service.
For our customers we also operate as a Technical Representative on the European Market in accordance with the provisions of the Machinery Directive 2006/42/EC.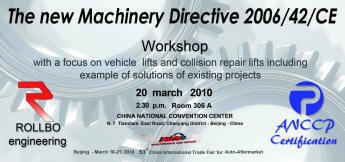 During the last Auto Maintenance & Repair Show in Beijing we were asked to organise a conference in cooperation with ANCCP,
italian leading Notified Body, to present the new requirements of the 2006/42/EC Machinery Directive and of the EN1493:2010 harmonized Norm.
Click on the following picture to download the slides of the conference: